National Food Literacy Mission has been initiated with the vision to empower individuals about their food choices through food literacy skills.
What is our understanding of Food Literacy?
Food literacy in the sense understanding the what we are eating; and an ability to produce one's own food while understanding its impacts on one's own health, environment and sustainable economy.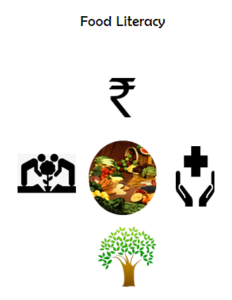 How it will work?
The main aim of the 'National Food Literacy Mission' is to use food as a medium to address agricultural crisis and climate change which are leading to farmers' suicide in India.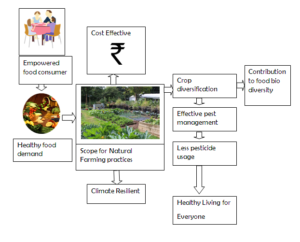 Food literacy is an integrated approach where we can tackle different issues at a time. Imagine a scenario when consumers started demanding healthy food then there is a scope for natural farming practices. Natural farming methods are always cost effective, climate resilient and healthy living for farmers and consumers as well. So, the indirectly, our daily food habits can cut down financial burden on farmers.
Other side, diversified food demand can encourage farmers to adopt crop diversification can help farmers to control pest effectively by attracting beneficial insects so bio diversity will blossom.
In other scenario, when everyone starts understanding the role of farmers in environmental conservation and food security, it can help to tackle societal pressure on farmer profession. Financial problems and societal pressure are some of the root causes for farmers' suicide in India. So, it is clear that our individual actions can make a huge difference.
We have different level approach to achieve food literacy in India but started working with two interventions.
i) Food Literacy training programs in schools
ii) Promoting ecological agro forestry models